4 quia
scriptum est:
In multiloquio
non effugies
peccatum;

5 et alibi:
Mors et vita
in manibus
linguae.

6 Nam
loqui et docere
magistrum condecet:
tacere et audire
discipulum
convenit.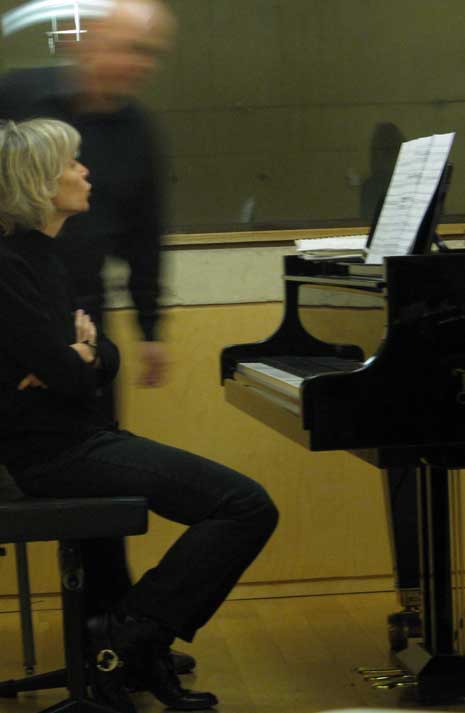 Daniela is very active as a piano accompanist and teacher in numerous prestigious schools in Italy and Spain.


As Piano Accompanist

In 1990 she attended the courses held by Thomas Brandis at the Ambrosian Academy of Chamber Music in Milan and she was chief repetiteur for a production of Mozart's opera "Bastiano and Bastiana" at the Festival of Franciacorta (Italy).

From 1996 to 1998 she was piano accompanist for the Flute Masterclasses given by Glauco Cambursano at the International Academy in Novara (Italy).

Since 2003 she has been living in Barcelona where she accompanies singers and players at Esmuc (Escola Superior de Música de Catalunya, Spain), collaborating with:
Mireia Barreira
Pierre Cao
Johan Duijck
Zoran Ducik
Susana Egea
Pablo Fernández
Francesc Garrigosa
Alex Garrobé
Hervé Hotier
Joan Izquierdo
Enedina Lloris
Damian Martínez
Salvador Martínez
Daniel Mestre
Albert Mora
Michel Poulet
Ofelia Sala
Josep Vila
Lluís Vila
Yuri Volguin
Laura Young.

From 2004 to 2007 she was piano repetiteur at the Escola de Musica de Palafrugell (Girona) and since 2005 she has been piano accompanist at the Competition for Young Singers of Premià de Mar (Barcelona).



As Teacher

She has taught at the following Italian State Conservatories:
Claudio Monteverdi (Bolzano),
Giuseppe Tartini (Trieste)
and Giuseppe Verdi (Milan),
and at the Civico Liceo Musicale in Varese
and at the Civica Scuola di Musica in Milan.

Between 1997 and 2003 she taught at the Accademia Internazionale della Musica in Milan and at the Claudio Monteverdi Musical Institute in Cremona.

She is professor of Harmony and Musical Analysis at the Giovanni Pierluigi da Palestrina Conservatory in Cagliari (Italy).


3... perfectis
discipulis
propter
taciturnitatis
gravitatem
rara loquendi
concedatur
licentia;

1...Dixi:

Custodiam
vias meas, ut
non delinquam
in lingua
mea...



SANCTI BENEDICTI
REGULA MONASTERIORUM
DE TACITURNITATE

Caput VI


7 Et ideo
si qua requirenda
sunt a priore,
cum omni humilitate
et subiectione reverentiae
requirantur.